How do I know if I need a Wheelchair?
A wheelchair is a mobility device designed for people who are unable to walk long distances unassisted. When you're looking for the best wheelchair for your needs, you should make sure that it's adjustable and still allows you to sit comfortably when you use it. Wheelchairs are available for different conditions and different capabilities; users include those whose mobility is limited by one of any number of conditions including paralysis, amputation, cerebral palsy and neurological disorders.
Chairs will be fitted by your needs and body, including:
Seat Height
Leg Rests
Backrest Angle
Arm Positioning
How do I know the Difference Between wheelchairs?
Electric Wheelchair -

Electric wheelchair is a motorized wheelchair that has its own internal power source, such as a battery pack. Electric wheelchairs enable users to maneuver more easily than with traditional manual wheelchairs. They also provide many of the same benefits as large-wheeled scooters, but they have larger seats and are much easier to handle in tight spaces.


Price - $2,000 to $6,000





Manual Wheelchair -

Manual wheelchair is also called a self-propelled wheelchair, is designed to be propelled by the person who uses it. Manual wheelchairs are reliable and easy to use, but they tend to be lighter than electric wheelchairs. This means that it require less strength to engage and disengage the wheels than an electric wheelchair.


Price - $300 to $2,000
Transport Chair -

Transport wheelchairs are not self-propelled and need to be pushed by someone else. Transport wheelchairs usually feature two big wheel and two small wheel in front. The large wheels are used for easy moving on the flat floor, while small wheels can be used up and down stairs. Transport wheelchair is often used in hospitals or nursing homes when patient needs frequent transfers between different places inside the facility.


Price - $100 to 1,500
Comparison -

Wheelchairs and transport chairs are both designed to help those who need assistance getting around. However, there is a fundamental difference between the two: wheelchairs have large wheels that users push themselves around, while transport chairs have smaller wheels, which are operated by others.
How long will a wheelchair last me?
Electric Wheelchair -

The battery life of a electric wheelchair is essential to the length of time it can get you from A to B, and the distance you can expect to go on a full charge. Fully charged power wheelchair batteries last for at least 8 hours and can be expected to achieve a range of around 10 miles, though if you've got a good one, you might be able to expect closer to 20 miles. With a overall life of the batteries lasting between one and two years.
Manual Wheelchair -

Wheelchairs are expensive, so it may help to know how long you can expect yours to last. With a few simple checks and repairs, you should be able to keep your wheelchair in good working order for five years or more. Regular maintenance is essential to keeping your wheelchair in working order, so that you can get the most out of your chair and enjoy it for as long as possible.
How do I choose a wheelchair size?
If you're buying a wheelchair, there are a few sizing factors that are important – wheel diameter, seat width and depth, arm height. You'll also want to account for the curve of your shoulder, knee and elbow in your measurements and double check before ordering.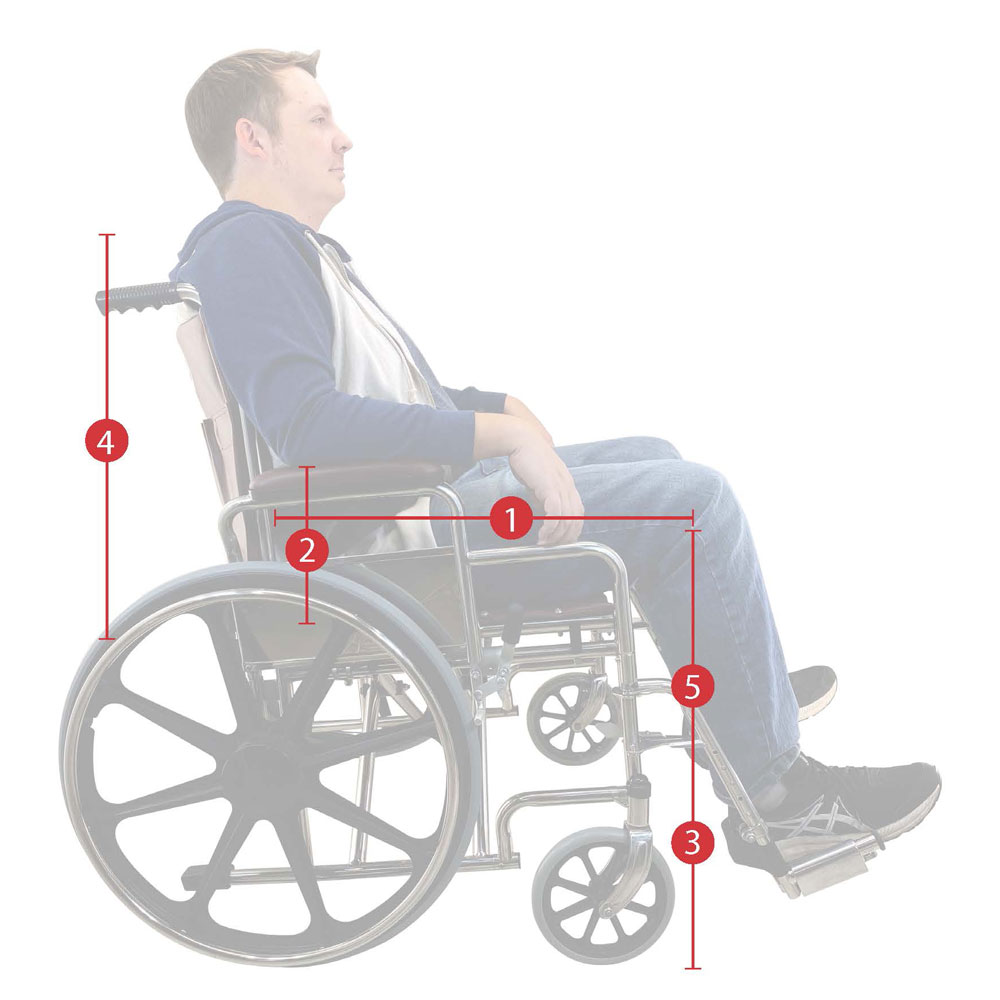 (1)
Determine Seat Size
Measure your hip width across (measuring the widest point of your hips or thighs)
Add 1"
Add thickness of side cushions (If you choose to add cushions)


(2)

Determine Arm Type and Height

Measure from your elbow to the seat while your holding one arm up with your elbow at a 90-degree angle.
Full Length Armrest:

Best used for people who frequently stand up to pivot and transfer to another surface.

Desk Length Armrest:

Best used for patients that need to be seated at a desk or table.


(3)

Determine Footrest Style

Swing Away Footrests

are manual swing away footrests offer convenience and comfort for your wheelchair user. With a simple push of the button, the footrests swing out of the way to allow for transfers, walking and sitting. Their convenient design ensures easy access to the seat cushion when not in use.
Elevating Footrest

is a great option for users who require additional height adjustment. The elevating footrest can be adjusted in increments, either up or down. This option may also provide some relief to users with pressure sores, as it allows you to change the angle of your weight distribution over a larger surface area on your knees and shins.
Articulating Legrests

have comfort, stability and convenience with the articulating legrest. The fully adjustable legrest helps you sit up straighter and aligns your knee with the wheel of your chair. The backrest can also be reclined for optimal pressure relief if you need it.


(4)

Determine Back Height

Measure from the base of the patients neck to there tail bone.
Add thickness for any extra cushions if used
Subtract 3"


(5)

Determine Floor to Seat Height

| | | |
| --- | --- | --- |
| | Wheelchair Size | Seat-To-Floor Height |
| 5'5" | Hemi | 17-1/2" |
| 5'5" to 6'2" | Adult | 19-1/2" to 20-1/2" |
| 21 1/2" | Tall | over 6'2' |
Wheelchair sizing goes off of the seat upholstery width and not over all chair width. Ensure to check your overall wheel width and wheel diameter to fit through tight spaces
Determine Wheelchair Weight and Weight Limit
Lightweight wheelchairs: 200-250lbs
Standard wheelchairs: 250-350lbs
Heavy-Duty wheelchairs: 350lbs and above
Electric Wheelchairs

Accessibility is important in any home, and having the right equipment is key. Health conditions or injuries that affect your mobility can be a real challenge to get around on your own, which is why electric wheelchairs are designed to help you safely navigate your home. Electric wheelchairs have many benefits over other mobility devices, including portability and ease of use.
The difference between an electric wheelchair and a manual wheelchair is the need for power. Electric wheelchairs are not just for people who can't walk: they can also be used by people who want to get around quickly. When you're shopping for a wheelchair, consider your future needs. If you think you'll need it for more than a year, we recommend an electric chair. They tend to last longer than manual wheelchairs, which need regular repairs. Electric wheelchairs can help you get around the house, travel long distances, go up and down stairs, and more.
To visit our full line of accessories please visit: Electric Wheelchairs


Manual Wheelchairs
Manual wheelchairs have many advantages over electric wheelchairs. They are easier to use, safer and more durable. They are the best choice for people who can walk at least part of the time and for those who need a wheelchair for back-up or when travelling. Fixed-position manual wheelchairs are easy to transport, store and maintain. Get off at any point along your way with these manual wheelchairs.
When you're looking for a manual wheelchair, think about how often you'll need to use it, where you will be using it and the situations in which it is required. You should also consider how quickly a person can get independently in and out of the chair, as well as whether they (or their caregiver) can safely lift and move them if necessary. For example, making sure that the feet rest can be adjusted for various lengths on each side is important when shopping for a manual wheelchair. Lastly, don't forget about color options and accessories like cushions and storage pouches that can make one chair better than another for your lifestyle.
To visit our full line of accessories please visit: Manual Wheelchairs
Transport wheelchairs are chairs specifically designed to assist an individual with limited mobility. They are intended for use when transporting individuals in and out of their home, to locations such as doctor's offices, grocery stores and restaurants, as well as to and from automobiles.
A transport wheelchair is a chair with a seat back and footrests, that is intended for use by people who cannot push themselves or do not have enough upper body strength to operate a
manual wheelchair.

To visit our full line of accessories please visit: Transport Chairs
Our Top Selling wheelchair Accessories
Choosing the right wheelchair is an important decision. Our accessories will ensure you and your loved one have the best experience in their new wheels. Whether it's a cup holder, tray table or O2 holder to make life easier, you can count on us to make sure they are exactly what you need. We've been in this business for over 50 years, so if there's anything else we can do to help please let our team know!
To visit our full line of accessories please visit
:
Wheelchair Accessories